Nuaire Dual Sided Animal Transfer Station AllerGard ES NU-620-400E
DUAL SIDED CONFIGURATION | PUSH-PULL AIRFLOW SYSTEM | MOTORIZED ADJUSTABLE HEIGHT | CASTERS FOR MOBILITY
The AllerGard NU-620 Dual Access Animal Transfer Station (ATS) employs a "push-pull" pattern of airflow to provide clean air in the work zone for small animal cage caging and generate suction through air slots on the work surface for allergen containment. A supply impeller creates the "push" in the transfer station by drawing air through a pre-filter and then propelling it past a supply HEPA filter and toward the work zone to create a clean air environment. From there, a powerful DC ECM motor underneath the work zone will "pull" the air down through the air slots in the work surface to contain allergens. The air is then drawn past an exhaust pre-filter and pushed out an exhaust HEPA filter on the bottom of the unit. The Aeromax control system displays the performance of this "piston of air" by visualizing the plenum pressure as a series of multi-colored LED indicators. The NU-620 is designed as a dual-sided cabinet to provide flexibility to vivariums that have little room to maneuver their equipment.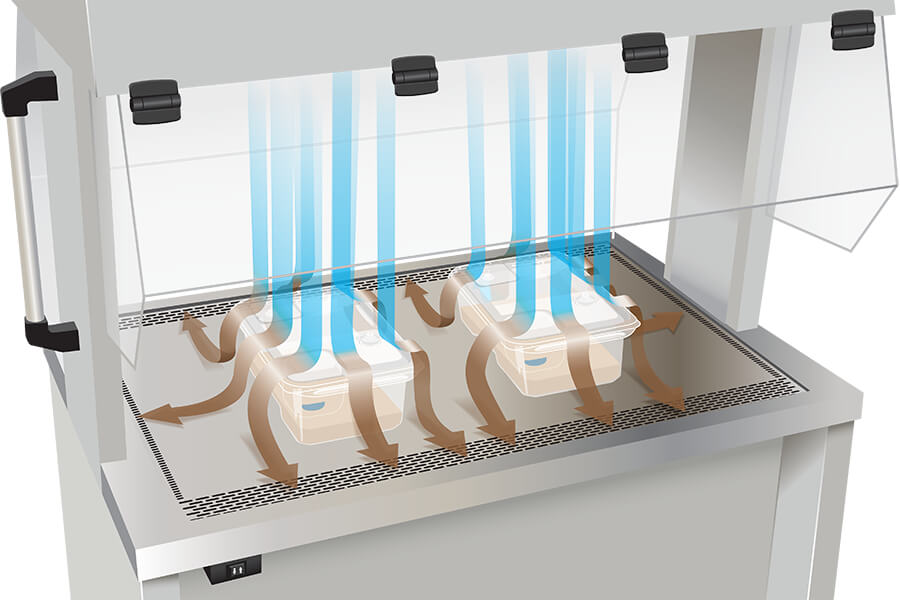 HEPA FILTERED LAMINAR DOWNFLOW AIR
ASEPTIC WORK ZONE
The primary goal of any Animal Transfer Station is to maintain aseptic conditions inside the work zone. The AllerGard ATS uses HEPA filtered laminar downflow air at 60 FPM (0.30 m/s), minimizing the risk of cross-contamination.

GREEN LIGHT, YELLOW LIGHT, RED LIGHT.
AEROMAX CONTROL SYSTEM
The Aeromax control system visualizes airflow plenum pressure through a series of multicolored lights and activates both an audible and visual alarm whenever station performance departs from normal parameters.

PUTTING HORSEPOWER INTO THE PISTON OF AIR.
POWERFUL DC ECM MOTOR
After the supply impeller pushes the air towards the work zone, the DC ECM motor pulls the air down through the slots in the work surface with a force that provides significant allergen protection to the user and enough long-term power to overcome exhaust HEPA filter loading for years to come.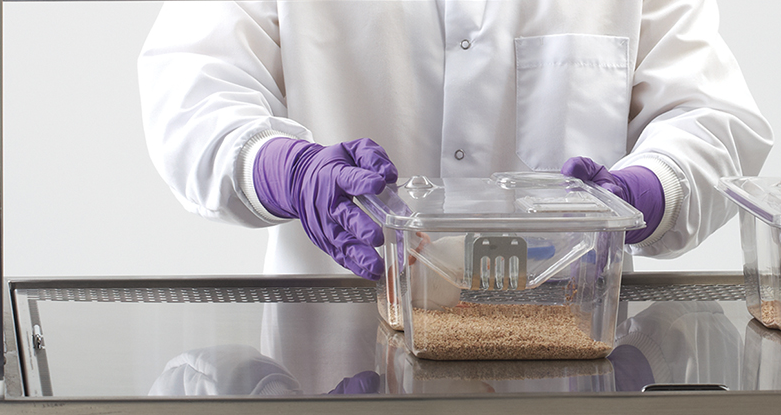 HIGH EXPECTATIONS.
14-INCH OPENING FOR CAGES
The NU-620 allows the vivarium technician to easily move mouse or even larger rat cages in and out of the workstation through its standard 14-inch (356mm) tall access opening while easily viewing the work area through the clear window just above. Add in the integrated base stand with motorized height adjustability, and the NU-620 design is ready to provide optimized visibility and ergonomic positioning for every technician in your laboratory.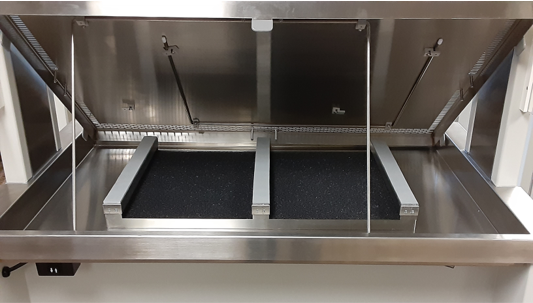 WHEN HEPA FILTERS CALL FOR BACKUP.
PREFILTER UNDER THE SURFACE
A normal workstation's HEPA filters would not last long in a vivarium, where hair and dander can more quickly saturate them. That is, unless it is adapted for this particular environment by using a prefilter to clean out the larger elements and leave the HEPA filters to contend with the smaller particulate. Its position under the work surface makes it easy to maintain as necessary.
STANDARD FEATURES
Supply Pre-filter
Supply EC Impeller
Supply HEPA Filter
Steel Main Construction
Polycarbonate Window
14-inch (356mm) Access Opening
Stainless Steel Work Surface with Prop Rod
Exhaust Pre-filter
Exhaust DC ECM Motor
Exhaust HEPA Filter
Motorized Height Adjustment
Castors
Pull Bars on Both Sides
LED Lighting
Outlet on Right Side Support